De juiste kantoorverlichting
Heb je moeite de juiste kantoorverlichting te vinden? Weet je niet hoe of waar kantoorverlichting te plaatsen? Heb je hulp nodig met kantoorverlichting? Stress er niet langer over.  Needsfacility is er om jou te helpen.
Kantoorverlichting plaatsen is geen moeilijk werk, maar de juiste oftewel de beste kantoorverlichting plaatsen neemt wel wat tijd. Het gaat er allemaal ook om als er een bepaalt sfeer is die je wilt creëren en als zo welk de sfeer is die je wilt creëren. Behalve de sfeer zelfs die men wilt creëren zijn er ook enkele kleine dingen waarmee men rekening zou moeten houden bij het plaatsen van de beste kantoorverlichting.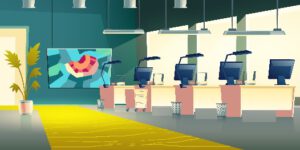 Daarnaast ligt de vraag als het om een kleine kantoorruimte of een grote kantoorruimte gaat en hoe de bouw van het kantoor er precies uit ziet.  Weet je dit alles dan kan je verder met het plaatsen van de beste kantoorverlichting. Niets is lastiger dan een niet goed verlichte kantoorruimte. Het maakt het zeker wel moeilijker op je werk te kunnen concentreren.Hier heb je dus enkele weetjes over de beste kantoorverlichting:
Grootte van de type lamp en hoe helder het is
Hierbij komt dan ook de sfeer die men wilt creëren bij spelen alsook de grootte van de ruimte.
Gaat het om een kleine kantoorruimte voor 1 persoon dan kan men het best voor een lamp kiezen met een heldere verlichting. Een kantoorruimte van vier bij vier kan men dus 1 lamp in het midden van het plafond plaatsen. Het is dan helder, maar doordat er 1 lamp precies in het midden geplaatst is geeft het ruimte voor wat schaduw in de hoeken. Je hebt dus dan een overzicht van alles dat zich in de kantoorruimte bevindt en geeft het ook de sfeer om te willen werken.
Gaat het om een grote kantoorruimte dan kan men voor een iets minder heldere verlichting gaan. Het aantal lampen die men dan zal gebruiken zal van de grootte van de ruimte afhangen. Een iets minder heldere verlichting is het beste bij een grote kantoorruimte, omdat het helder genoeg is om alles te kunnen overzien. Maar dan nog net niet zo helder dat men voelt alsof zij in een schijnwerper staan. Wat dan ook bij kan is bij een ieder op tafel een tafellamp te zetten voor hen die wat meer licht zoeken of nodig hebben.
De kleur wit lijkt het best gepast, maar indien er ander kleuren zijn die men liever heeft of erbij wilt dan mag dat ook. Het ligt er allemaal op wat voor effect dit zal hebben op de productiviteit van werknemers of zichzelf.
De bouw van het kantoor zelf.
Hoe is deze precies ingericht en waar precies zijn de ramen of heeft het gebouw gewoon helemaal geen ventilatie. Het gaat er allemaal ook om hoeveel zonlicht er eigenlijk door de ramen naar binnen komen en hoeveel ramen er precies zijn om te kunnen weten waar de lampen precies te plaatsen.
Met een gebouw die overal ramen heeft die genoeg zonlicht naar binnen laten heeft men niet zo een heldere verlichting nodig. Het zonlicht zal dan genoeg verlichting aanschaffen om alles in de ruimte te overzien. Dit geldt voor zowel een kleine als grote kantoorruimte.
Is er helemaal geen sprake van ventilatie dan kan men het best voor een iets heldere verlichting kiezen tenzij men een andere sfeer wilt creëren. Voor de beste kantoorverlichting zijn er dus een tal van dingen waarop men zou moeten letten, maar het hangt namelijk ook van welke werksfeer men wilt creëren.